Red Kap
Short Sleeve Industrial Work Shirt
SP24
Red Kap Short Sleeve Industrial Work Shirt
CornerStone puts the toughest materials and advanced stay-clean technology into this shirt so you get the most out of it. This hardworking style is built to meet IL50 standards which means it excels through 50 industrial launderings.
4.25-ounce
65/35 poly/cotton with soil-release finishOpen collar with sewn-in staysMetal collar gripper closureMelamine buttonsTwo button-through pocketsBartacked pencil stall on left pocket
Quantity
minimum quantity: x available in bundles of: x Product ordered in bundles.
Sizing Details
Size Guide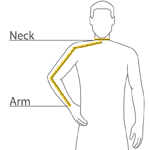 | | S (R) | M (R) | L (R) | XL (R) | 2XL (R) | 3XL (R) | 4XL (R) | 5XL (R) | 6XL (R) |
| --- | --- | --- | --- | --- | --- | --- | --- | --- | --- |
| Chest | | | | | | | | | |
| Arm | | | | | | | | | |
| Neck | | | | | | | | | |
Est. Price Per Shirt: $
Total Price: $